And so I'm marching in said group again this year.
I'll most likely be pulling out Strontium again, as, well, it's Scottish, it can be radioactive, and its atomic number is 38 (that's for the Stargate fans), but I may switch to Nitrogen if the mood strikes me and it is still available when it does.
If you're going to Dragon*Con, and this little adventure seems like fun to you, please let me know, and I'll get you the info you need to march with us, or you can use the email address below. Right now, about half the elements are covered. We need more people!
If you're worried about a costume, don't be. All we ask is that your element be represented in name, symbol, number, and weight on the front of your costume. A simple t-shirt will do, but if you want to get more elaborate, that's fine, too!
Just come on out and have fun with it!
Here's a link to samples of last year's costumes. We supposedly had all but eight elements represented, but we didn't manage pics of them all. (
http://planettom.livejournal.com/278398.html
) If you are interested,
here's a link to the available elements this year
. If you want one, email here:
periodictableparade@gmail.com
Oh, and here's mine up close, if'n you was wondering:
Front: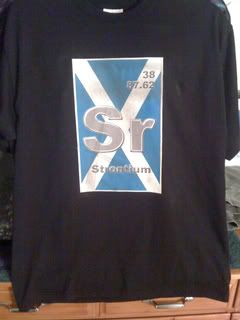 Back:
So, last year at Dragon*Con, I marched in the parade. I'd never been to D*C before, and I was worried this would, well, suck. However, it most assuredly did not suck, and I will march in the parade every year if I am at all able. I had a blast! I marched last year with a Periodic Table group. That's right, a hundred some odd folks marched in a living periodic table. I was concerned the crowd wouldn't "get it," but I forgot my audience. They loved it! People ate it up and started chanting things like "Elements! Elements!" and "Dude! Real science! How cool!" as we marched along.